What We're Covering
You may have heard of Starlink but may need clarification on what it is, if it works, and how it compares to cable internet. Let's dig into Starlink, review its pros and cons, and compare it to cable internet.
What is Starlink?
Starlink is a satellite internet provider that uses low Earth orbit satellites to provide high-speed internet.
What is cable internet?
Cable internet is a broadband technology that transmits high-quality data over wired coaxial cables. Some cable internet providers use HFC technology which combines optical fiber and coaxial cables to provide high-speed internet.
Which type of service is more reliable?
Latency is one way to measure internet reliability. Simply put, latency is the amount of time it takes for data to go from one place to another. Regular satellite internet has a latency of 500 + milliseconds (ms), but Starlink's latency ranges between 25 and 50 ms (on land). According to the FCC's Measuring Fixed Broadband - Twelfth Report, the latency for cable internet ranges from 11 ms to 19 ms. Although Starlink offers much better latency than regular satellite internet, cable internet provides better latency results than Starlink.
Although trees can affect Starlink's performance, this should not be a concern if the equipment is appropriately placed (no trees/buildings obstructing the satellite's sky view).
Wind and light rain or snow should not affect your Starlink service; however, heavy rain or snow may interfere with your signal. Cable internet lines are typically buried in the ground, making them less likely to be affected by weather.
How do they compare price-wise and speed-wise?
For $120 a month, one could sign up for Starlink's standard fixed residential service plan, which provides a download speed range of 20-100 Mbps*. Starlink also offers priority plans, which are advertised as being better for businesses/emergency response and are pricey as they start at $250 per month. Starlink offers a Mobile plan advertised as best for RVs—this plan is offered at $150 a month. Cable internet usually provides more flexibility by offering a few residential plans, typically ranging from download speeds between 50 Mbps to 1200 Mbps and generally from $50 to $120 monthly.
Regarding the installation fee, cable internet providers often waive it or keep it to under $100. Starlink requires hardware starting at $599 to set up its service. Additionally, Starlink requires self-installations and cable internet providers typically offer professional installation.
Where is it offered?
Starlink is available in the 48 contiguous states but mostly in urban areas of those states. Cable internet is available in most places but may not be available in very small or rural areas. However, internet service providers continue to work to expand into underserved communities.
Starlink Pros & Cons
As a quick summary, here are the pros and cons of Starlink: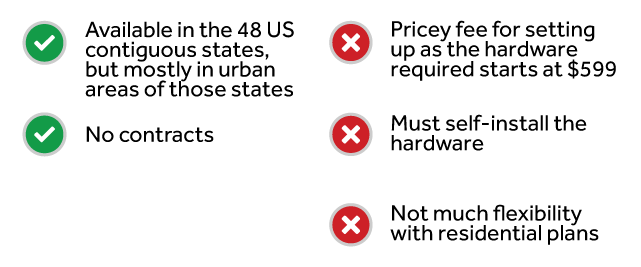 If you're interested in learning about how Sparklight Internet compares to 5G Home Internet, you can check out our comparison.
Frequently Asked Questions
Is Starlink available anywhere in the US?
No. Starlink is available in the 48 US contiguous states but mostly in urban areas of those states.
How is Starlink different from regular internet?
Starlink uses a Low Earth Orbit satellite constellation to provide high-speed internet. In contrast, regular internet is typically connected through coax or fiber cables (or a combination of both).
How is Starlink different from other satellite internet?
Other satellite internet providers have satellites much further away than Starlink. Starlink's satellites are at an orbital height of about 340 miles, whereas other satellite internet providers may have satellites at over 20,000 miles. It's no surprise that Starlink's service is more reliable than other satellite internet providers.
Is Starlink more reliable than cable internet?
Although Starlink is more reliable than other satellite internet providers, because of the satellite communication, Starlink tends to have higher latency than cable internet. Additionally, more populated areas may experience diminished reliability because the number of satellites may not be sufficient to service all the customers in the area properly.
*Information as of June 2023; changes after this may not be reflected. This website contains information regarding services or products manufactured and sold by third parties. Information contained herein regarding any manufacturer or product is informational only and does not constitute or imply an endorsement or recommendation of that manufacturer or product. No warranty of any kind, expressed, implied, or statutory, is made regarding the accuracy, adequacy, completeness, legality, reliability, or usefulness of any information, either isolated or in the aggregate. All information is provided "as is."