FOR IMMEDIATE RELEASE
Sparklight Business® Donates $3,500 to Texarkana Nonprofit CASA
Oct. 21, 2020 – Texarkana, Texas – Sparklight Business is helping to provide hope and resources for the youngest and most vulnerable Texarkana residents with a $3,500 donation to non-profit CASA (Court Appointed Special Advocate) for Children, an organization that empowers volunteers to advocate on behalf of abused and neglected children.
CASA recruits and trains Volunteer Advocates, who provide a voice for children who have been removed from their homes due to abuse or neglect.
"This organization provides a vital service to the children in our community who need it most," said Sparklight's Texarkana General Manager David Wall. "We are honored to be able to support CASA in its mission to find permanent, stable homes for children who have suffered neglect or abuse."
Earlier this year Sparklight Business donated $3,500 to Texarkana Resources, and Texarkana-based Opportunities, Inc., was awarded $5,000 through Sparklight's "Up for Any Challenge" social media campaign.
"Our associates live and work in Texarkana, and we've seen firsthand the impacts of the coronavirus on the organizations serving the residents who need the most support," Wall said. "We're happy to do what we can to help our community get through this challenging time."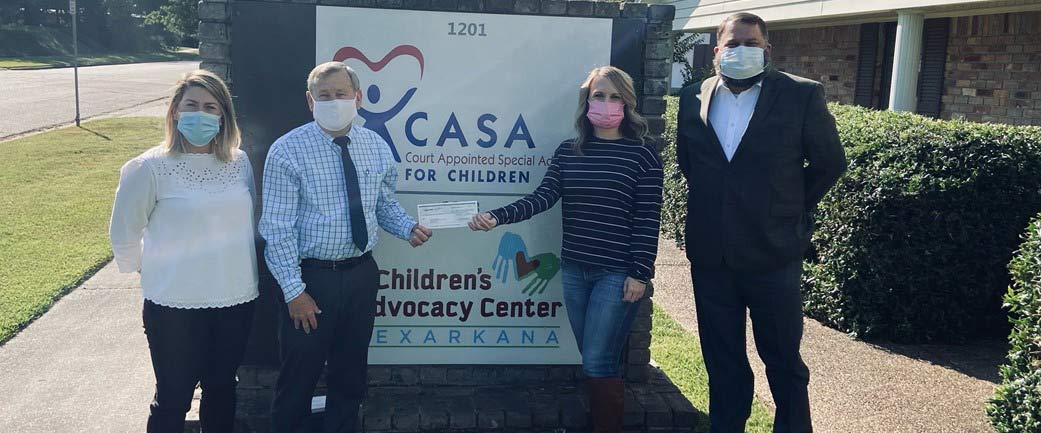 Photo caption: Sparklight Business presents a donation check to CASA. From left to right, CASA Executive Director Brandy Eldndge; Sparklight General Manager David Wall; CASA Development Director Emily Green; and Sparklight Business Account Executive Ryan Trammell.
###
About Sparklight Business
Sparklight Business helps businesses of all sizes increase productivity by providing superior connectivity solutions at an affordable price and backing those solutions with the highest level of customer service and support. The company offers a wide range of products, including high-speed and fiber-based Internet, business phone plans including hosted voice and voice trunking, ethernet networks and video solutions. Today, the company serves more than 75,000 businesses across 21 states. For more information, please visit https://business.sparklight.com.
CONTACT:
Tammy Gabel
Communications Manager
602.364.6712
tamara.gabel@sparklight.biz