Sparklight. A Stronger Connection.
When it comes to the Internet, nothing beats fast. And with speeds up to 1 Gig, that's just what Sparklight delivers. But what good is speed without reliability? That's why Sparklight's fiber-powered network also delivers whole home Wifi coverage, so you can enjoy all that speed, whenever you want it. Fast. Reliable. Demand both.
It's fast! It's powerful! It's in your neighborhood!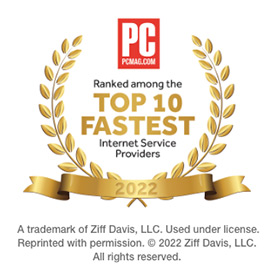 PCMAG RANKS SPARKLIGHT AMONG 2022'S TOP 10 FASTEST INTERNET SERVICE PROVIDERS.
Gig speeds to take on any file size.

A fast connection
With speeds up to 1 Gig* you can download faster and stream lag-free.

A reliable connection
99.9% network reliability means your internet will be there when you need it.

A far-reaching connection
With a Sparklight modem, you'll enjoy WiFi One whole-home coverage, with guaranteed satisfaction, so all your devices stay connected.
Internet Speeds you need to take on anything. SHOP PLANS